Crypto Service Gateway
CSG Overview

How it Works
What it Does

Crypto doesn't have to be complicated. Don't settle for manual procedures, unnecessary hardware, project-specific security or vendor tie-in. Forget the past, welcome to the future.

Crypto Service Gateway is a cryptographic control centre, which acts as an HSM management interface and crypto firewall, that delivers and manages crypto for any application in your business. It solves over 50 common application crypto problems, including integration, data encryption, tokenization, transaction authorisation, signing and key management.

It benefits the smallest of applications, yet scales effortlessly to deliver crypto to the entire enterprise. Discover huge cost and time savings by doing crypto the right way.
Solve Your Crypto Headaches
Shorten time to market with easy to use interfaces for developers

Control everything from one place

Manage keys for all applications

Use any major HSM brand - avoid lock-in

Solve compliance headaches with centralised audit logs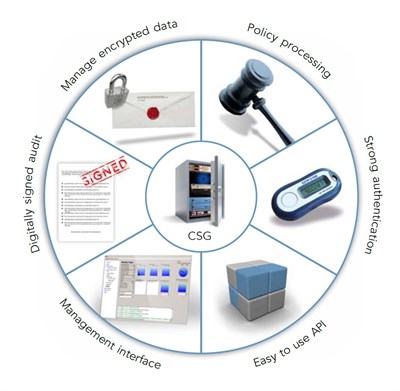 Read About It
Read the case study to see why Barclays Bank chose CSG as their strategic enterprise crypto service.
Try It Out
Get in touch to arrange access to our online demonstration server.