1 min read
Cryptomathic & CPS Technologies Provide Online Banking Authentication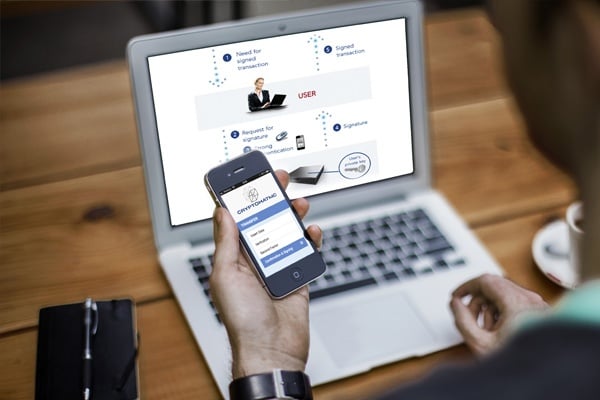 Lyon, France and Cambridge, UK - 7 January 2008
ABnote French subsidiary, CPS Technologies, has partnered with e-security solutions provider, Cryptomathic, to offer its financial clients robust online two-factor authentication services, from token distribution to one-time-passwords (OTP) validation and integration solutions.
The technology, which is centred around the vendor neutral Cryptomathic Authenticator, will enable CPS Technologies' clients to protect their internet banking facilities against sophisticated online financial crimes by authenticating e-banking users by means of OTP. One of the main advantages of the solution is its flexibility with regard to authentication method, allowing banks to choose the most appropriate devices to issue to its customers. For example, SMS, mobile readers in combination with EMV payment cards or OTP tokens are all compatible with the system.
Olivier Cau, Security and Technical Director at CPS Technologies, comments: "French banks predominately use static passwords to authenticate online customers. However, to ensure internet transaction security and protect customers from the increasingly advanced fraudulent attacks being undertaken, CPS Technologies acknowledged that tougher measures were required. By partnering with Cryptomathic we are now able to provide the highest level of two-factor authentication banking security, yet offer clients flexibility in how this is implemented and used by their customers."
Peter Landrock, Executive Chairman and co-Founder of Cryptomathic, adds: "Cryptomathic is delighted to be working in partnership with CPS Technologies to deliver sophisticated two-factor authentication services to the French market. It is vital that customers feel safe when using online banking services and CPS Technologies' investment highlights its continued commitment to protecting e-bankers from financial online criminals."
About
Cryptomathic is a global provider of secure server solutions to businesses across a wide range of industry sectors, including banking, government, technology manufacturing, cloud and mobile.
We pride ourselves on strong technical expertise and unique market knowledge, with 2/3 of employees working in R&D, including an international team of security experts and a number of world renowned cryptographers. At the leading edge of security provision within its key markets, Cryptomathic closely supports its global customer base with many multinationals as longstanding clients.
It doesn't matter where you are. We can work anywhere in the world! And we would love to hear from you, be sure we will reply asap. Feel free to write to us at enquiry@cryptomathic.com.