Cambridge, UK - 16 September 2014
Latest white paper from e-security solutions provider offers guidance to combat security threats in mobile payments landscape
Cryptomathic has published its latest white paper, which offers advice to banks and payment service providers on how to protect mobile banking, payment and host card emulation (HCE) applications against security attacks.
The paper, titled: ' Protect HCE Mobile Applications with Cryptomathic MASC' highlights the benefits that HCE brings to the market through simplifying and speeding up the deployment of mobile near field communication payments. The document also explores how the mobile security threat landscape has evolved as a result of recent changes in the mobile payments industry and highlights the key threats and countermeasures that developers need to be aware of when creating mobile payment applications. Countermeasures covered in the paper include reverse engineering capabilities; secure data storage; mobile device binding; and TLS endpoint security.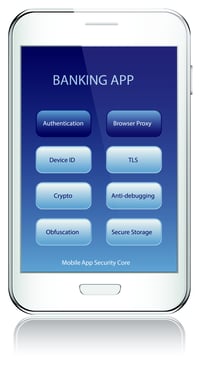 Written as an educational tool for banks and payment service providers, the paper discusses best practice for implementing a comprehensive and flexible security strategy that can be easily adapted to respond to advances in the rapidly evolving marketplace. An overview of how to undertake software protection for keys used in HCE applications is also explained.
"We're seeing an increased desire from banks to capitalise on the benefits brought by HCE," comments Peter Landrock, Executive Chairman and Founder of Cryptomathic. "As such, many developers are looking to create their own mobile banking applications, yet often, they require additional technical expertise to understand and implement the security design required in order to protect the sensitive data stored within these applications.
"Cryptomathic works with its customers to ensure their mobile payment applications are built with the strongest set of security components and are agile enough to be easily updated, thus enabling our customers to always stay well ahead of the hackers. Within this white paper, Cryptomathic aims to share its knowledge and expertise on the mobile payment space and offer recommendations on how to secure banking, payment and HCE applications."
To download the white paper, visit /solutions/mobile