CRYPTO KEY MANAGEMENT SYSTEM
---
Across all industries the requirements for managing cryptographic keys are becoming ever-more complex. Ensuring that the right key is in the right place at the right time is mandated by many organisations, i.e. major card payment scheme providers. This is a complicated requirement as most businesses need to manage an ever-increasing number of keys, while reducing the risk of internal and external fraud, as well as keeping costs at a minimum.
The Crypto Key Management System (CKMS) streamlines administration and reduces costs associated with traditional key management. Through its flexible and automated protocols, CKMS gives users the flexibility to manage a very large number of keys - throughout their entire life cycle - without drowning in work. Using Cryptomathic CKMS, administrators can uniformly and centrally manage the life cycle of all cryptographic keys across a range of encryption platforms.
Key Management Functions of Cryptomathic CKMS
Generation / back up / restore / update
Distribution - automated or in key shares
Import or export in key shares
Enforce security controls
Encryption using Key Encryption Keys (KEKs) / Zone Master Keys (ZMKs)
Certification (e.g. using X.509 or EMV certificates)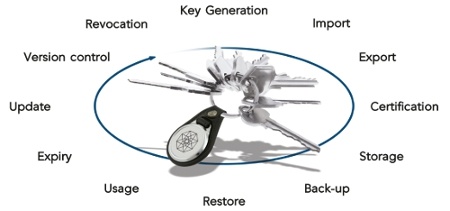 CKMS manages all aspects of cryptographic keys during their life cycle
Keys can be securely generated and pushed to any key distribution target as and when required, and key custodians can use asynchronous log-on to projects for adding components securely - reducing the need for manual key ceremonies, while vastly improving workflows.
Based on industry standards, CKMS ensures compliance and simplifies internal and external audits.
CKMS Features
At your desk key ceremonies
Automated key distribution and updating
Centralised life cycle key management
Compliance

Authorities: FIPS, Internal audit, PCI, Payment schemes and S/O

Domains: Physical (e.g. tamper) & logical security (crypto/SW/system design)

Configurable role-based access
Flexible key attributes eliminate paperwork
High availability and scalability
Searchable tamper evident audit log
Support for all major HSM brands
Trusted path using secure PIN pads
Click here for specifications.
Customers
CKMS customers range from medium size enterprises to multinational companies in technology manufacturing and finance. Our key management customers include global players such as First Data, Infineon Technologies and MasterCard.
---