Adopting a Global e-Signature Strategy for Large Banks and Financial Services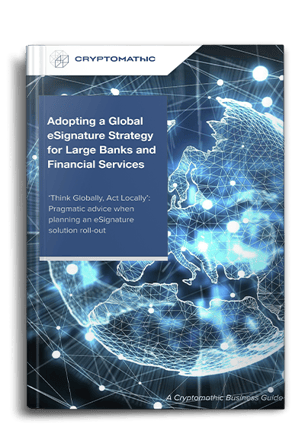 What's inside?
When digitally signing a transaction or a contract, a Qualified Electronic Signature is legally equivalent to a handwritten signature in all EU countries. In other jurisdictions, local eSignature laws apply with the requirements applicable in that country.

It is difficult to find an eSignature service that can provide a single technical solution and at the same time comply with various local signature laws, contract fulfillment formalities and data privacy requirements. Here we offer the advice of 'Think Globally, Act Locally' to organizations eager to adopt a successful digitalization & eSignature strategy.
This business guide explores:The business cases and benefits on a large scale
The user experience - dos and don'ts
Considerations for local business stakeholders
Some challenges of global eSignature services and compliance with local laws
How remote signing and WYSIWYS technology can support multiple jurisdictions from a single technology stack.