The UK's relationship with the EU has been tumultuous in recent years, especially in the wake of Brexit. With regards to digital identities, former Prime Minister Tony Blair's, statement that "everyone in the UK should be issued with a digital ID" has sparked heated national debate and left many wondering if the UK will follow suit with the EU on this issue.
A recent poll from The Times showed a significant majority of their readers are in favor of digital IDs for everyone in the UK.

Source: https://www.thetimes.co.uk/article/readers-poll-should-everyone-in-the-uk-be-issued-with-a-digital-id-nvr2t58w0
Digital Identity in the EU
The European Union (EU) has long been ahead of the curve when it comes to digital identity. The eIDAS Regulation of 2014 laid down the framework for the use of electronic identification and trust services across member states, with a focus on increasing user convenience, security, and privacy.
The EU is now taking things even further with the introduction of eIDAS 2.0, which will make it possible to create a secure digital identity wallet in a mobile app, known as the European Digital Identity Wallet (EUDI Wallet). This digital identity wallet app will store all of the user's online authentication credentials and can be used to access services across Europe.
Given these advancements in digital identity solutions in the EU, many believe that other countries should follow suit and adopt similar standards. This could potentially create an environment where digital identities are interoperable across multiple jurisdictions, allowing for easier access to services both within the EU and beyond its borders. Whether or not this will become reality remains to be seen – but it's clear that the future of digital identities is an exciting one indeed!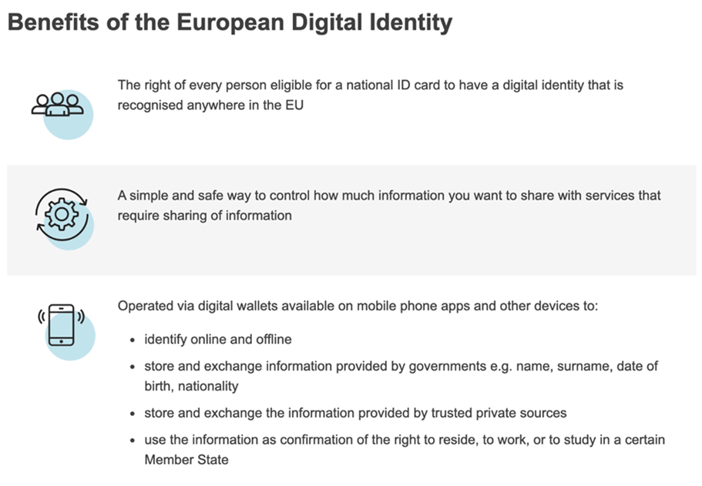 Source: https://commission.europa.eu/strategy-and-policy/priorities-2019-2024/europe-fit-digital-age/european-digital-identity_en
What is the European Digital Identity Wallet?
The European Digital Identity Wallet (EUDI Wallet) is a proposed initiative by the European Commission, designed to provide users with a secure digital wallet for storing personal data and authentication for online services. This would help protect user privacy and improve security, while also providing convenience and reducing transaction costs for businesses. The wallet app would enable users to access multiple services from different companies and organizations without needing to provide their personal details each time, allowing them to securely authenticate themselves when signing up or making payments online.
The proposed EUDI Wallet system could bring a number of benefits to users and businesses alike. For users, the system would provide a secure and convenient way to store their personal data and authenticate themselves when signing up or making payments online, eliminating the need to repeatedly enter the same information over and over again. It would also increase user privacy by ensuring that only authorized organizations can access their data.
For businesses, the system could reduce transaction costs as they wouldn't need to employ additional staff in order to verify customers' identities. Furthermore, it would help to prevent fraud as all transactions would be securely authenticated through digital verification. Finally, it could help companies comply with EU regulations more easily since they wouldn't need to rely on manual processes for such tasks.
Overall, the European Digital Identity Wallet system should bring numerous benefits for both users and businesses if implemented correctly.
UK Digital Identity Landscape
The UK does not currently implement a national identification system, despite the fact that many other countries have done so. This is because of the controversial nature of such schemes, which have been criticized for potentially infringing upon citizens' privacy and basic human rights. In addition to concerns about civil liberties, critics of ID cards have argued that they would be costly to implement and maintain, and that the security risks posed by such a system would be too great. The UK government has also argued that the existing system of passports and driving licenses is sufficient to provide proof of identity and that introducing a national ID card would create an unnecessary bureaucratic burden.
However, the UK is moving in the right direction in the digital identity space, offering citizens more control and security over their data. The Government Digital Service (GDS) has developed a range of tools that enable users to register, authenticate and access government services online. This includes the GOV.UK Verify program, which allows verified users to prove their identity online quickly and securely. However, the UK is still lagging behind other neighboring countries in terms of implementing digital identities and digital wallet solutions. Has the time come for the UK to finally follow its European neighbors on digital identities to take real advantage of digital transformation?
Maybe one needs to take another angle to see the real value. A digital identity card or, more broadly, a state-commissioned ID wallet and attestation service can be a strong technology enabler in a digital society. If introduced purely digitally on mobile phones, the incurred direct costs and the environmental impacts are reduced but the use cases are countless. On an ID wallet, one can store health benefits, driving licenses, diplomas, insurance policies, proof of residence, proof of citizenship, etc. They can be used online to file and sign tax returns or open a bank account or demonstrate you detain an insurance policy. Offline, other use cases may be to show your NHS eligibility at a doctor or inspect your driving license at a police control.
If one looks at the financial and environmental costs as well as the time allocated for each of the operations above, the overall savings for the public and private sectors are significant. Take for instance the average cost per vote cast for elections, which the cabinet office defined at £2.37 in 2015.
In conclusion, the UK should not be afraid to follow in the footsteps of the EU when it comes to digital identity. It is essential that businesses and individuals alike have access to secure and reliable digital identity solutions so they can take advantage of the opportunities presented by the digital world. The UK should look to implement similar solutions as those being used by its European neighbors in order to ensure a safe and secure online environment.
Cryptomathic is a leader in mobile app security and eIDAS-certified digital identification & eSignature solutions. Contact us to hear how we can help with protecting mobile apps for digital identities and qualified electronic signing.