This article describes a model that could enable an electronically signed document to be printed out and used as an original in legal proceedings, in compliance with the eIDAS regulation.
The digitalization of paper processes is a very complex project that not only needs actions concerning technology and adaptation of IT infrastructure, but also a change in the way these processes are being run. To achieve this, there is a need for a change in organizational procedures, and in the creation and storage of electronic documents in particular.
The concept presented below enables digitalization of some paper proceedings that allow parties to use both paper and electronic documents interchangeably. This concept is based on a document repository allowing secure placement of documents for long periods of time.
All documents shall be electronically sealed and timestamped to protect their integrity and authenticity. When the electronic document is uploaded to the repository, the repository creates the visualised form of the original electronic document. Visualisation should contain information about the validity of the electronic documents, signatures and the document's unique identification in the repository.
Visualisation is also sealed and timestamped. Repository mechanisms can then share the visualisation of the document, with the information about methods of its verification and an identifier, in a way that enables its print-out and verification.
The main idea of the model is to allow the holder of a printed document to receive its electronic form and to confirm the authenticity and integrity, based on an identifier of the printed document. It means that in paper procedures, the printout of the electronic document can be handled as the original because it allows the time to get sealed and the validation of the original.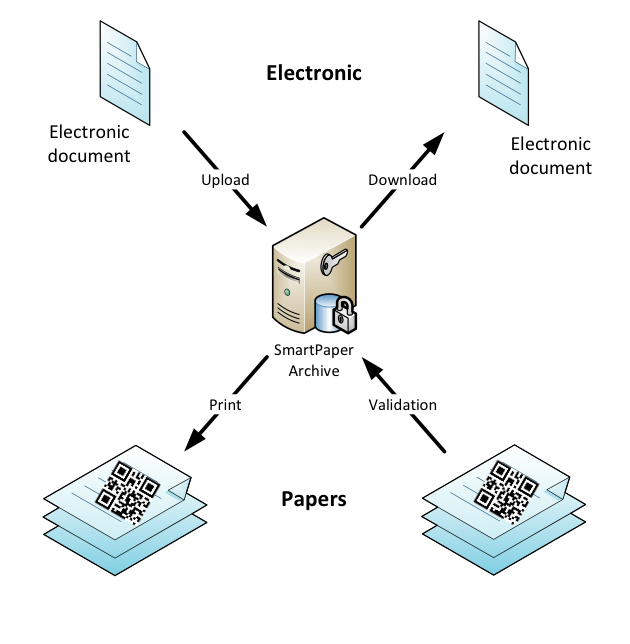 The whole model can be implemented as a trust service combined from both qualified or non-qualified trust service providers. The main trust services are Validation, Preservation and Timestamp services, which are protecting evidence of the original electronic documents and its visualization. But the main part of the trust service is the protected repository and the secure and convenient visualization service creating the final form of the printout.
In the model some new technologies can be used, for example technologies based on blockchain for document repository and for creation the unique identifier of the document. The presented model is fully compatible with eIDAS regulation. If the model is implemented as a trust service regarding motive 22 of eIDAS, it should be possible to use it as evidence in legal proceedings in all Member States.
References