The "new economy" is the catch-all phrase encompassing all new mostly service based industries, especially the ones delivered on a digital platform.
It is the fastest growing segment in both advanced and developing economies and offers great job opportunities for working professionals while being free from the adverse effects of heavy manufacturing.
It should therefore come as no surprise that the European Union is treating this segment of new-age, digitally delivered services as the primary target of its policy push.
The EU policies for the digital market cover various aspects required for success:
These and other regulations aim to provide the basic framework necessary to implement a cross border digital market.
A practical example of such a system is the Electronic Simple European Networked Services or e-SENS for short. The project ran from 2013 to 2017 in 22 countries with over 100 participating bodies. Its aim was to create a cross-border digital market across the EU while using generic and re-usable technical components. It succeeded in its aim of creating the basic IT building blocks for delivering digital services securely across national borders.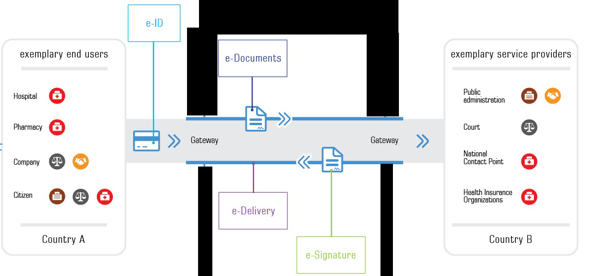 The e-SENS framework. Source: https://www.esens.eu/

The graphic above illustrates the e-SENS framework with its focus on e-ID, e-Signatures, e-Documents and e-Delivery. The pilot was used to highlight the potential for cross border digital service delivery in sectors such as health, business, procurement, justice etc..
References and Further Reading
Image: Europe, courtesy of Charles Clegg, Flickr (CC BY-SA 2.0)