DOWNLOAD CASE STUDY
UBS Increases Efficiency and Security Using Qualified Electronic Signatures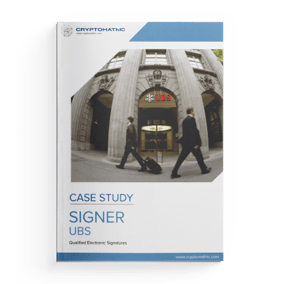 What's on the inside ?
Read how UBS offers its clients remote electronic signatures providing the same legal value as a wet signature.
UBS had the following goals:
Enhanced user experience through a seamless digital signing workflow for end-users
Sustainability through paperless workflows
High performance and scalability, to serve millions of customers
Compliance to the eIDAS regulation for Qualified Electronic Signatures - providing the same probative value as handwritten signatures but making it more difficult to counterfeit.
The case study explains how the goals were accomplished by integrating Cryptomathic's Signer solution into the existing UBS infrastructure.