SIGNER
Signer offers secure signing for web services, e.g. eBanking, eGovernment. It combines strong authentication with digital signatures to enable user-mobility without trading off security. A user can request a signature at any time via the internet, e.g. from a web browser or an e-mail client. With Signer, users are able to sign legally binding electronic transactions securely from anywhere in the world.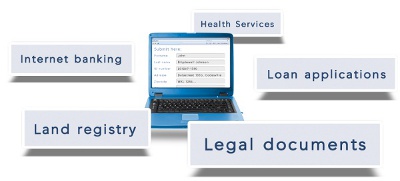 Practical and Secure
The Signer is a central server, which stores users' private keys in a secure database and generates digital signatures on their request. As the private key is stored centrally, the physical security and responsibility of the key no longer lies with the individual user, as it is not stored on a PC or hardware token. Multiple authentication methods can be used with Signer via the Authenticator.
Cryptomathic Signer Provides:
Advanced digital signatures
Qualified digital signatures
Easy integration
Secure key protection
Enhanced security
Simplified key management
Strong authentication
User and message authentication
Non-repudiation
User mobility
Signature Formats
PKCS #1, PKCS #7
XAdES (TS 101 903)
PAdES (TS 102 78)
CAdES (TS 101 73)
Security Standards
Security Requirements for Trustworthy Systems Supporting Server Signing (ETSI TS 14167-5, TS 419 241)
SRP Secure Remote Password protocol version 6 IEEE P1363 and ISO/IEC 11770-4
Centralised Digital Signatures with Virtual Chip Cards
The Signer functionality of using a central server for securely creating digital signatures on a user's behalf is a unique design by Cryptomathic and is patented worldwide.
Read the Cloud Signing vs. Smartcard Signing white paper.
Signer is used by trusted services providers around the world for large-scale deployments and several countries have implemented it nationwide for all their citizens.
Read the LuxTrust Case Study on how Signer is used on a national scale in Luxembourg.
SIGNER - a new signing experience