- 24 November 2014
Solution simplifies lifecycle management of cryptographic keys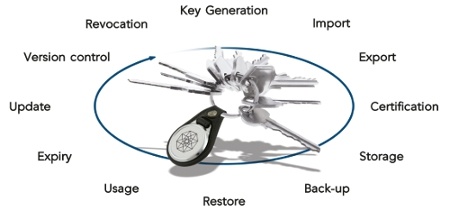 Cryptomathic announces that leading IT services provider, NTT DATA, has implemented Cryptomathic's Key Management System (CKMS) across its payment processing platform in Italy, to centralise the management of cryptographic keys. NTT DATA's payment security system, COPS (Cryptographic Open Platform for Security), is used by banks and payment processors across Europe to authorise payment transactions.
CKMS enables organisations to comprehensively manage the entire lifecycle of a large number of keys using a standard, centralised approach. The solution offers an immediate return on investment by removing the need to have key custodians physically present to manually install and regularly manage the keys on devices that are geographically dispersed.
The automated software from Cryptomathic enables instructions to be issued individually to each key custodian or security manager who are able to control keys independently online from their desks, seamlessly and securely 'pushing' them to where they need to be.
The system performs numerous functions for NTT DATA including highlighting when a key is due to expire and communicating who a key has been shared with. The automated functionality not only simplifies the key management process but also streamlines and improves workflows.
Stefano Ottaviani, Senior Manager at NTT DATA in Italy, comments: "We have worked with Cryptomathic to integrate its technology and distribute an innovative payment authorisation solution for a number of prestigious clients across Europe. The automation of the CKMS reduces human error while enabling keys to be updated regularly without additional cost to a financial institution or its customers. At the same time, the increased level of activity strengthens the security of our payment authorisation process for banks, ATMs and other transaction points."
"The secure management of keys is critical to any payment system," adds Guillaume Forget, SVP Europe at Cryptomathic. "If a key is compromised, all cards issued under that key would be compromised. In addition to the importance of this component, the amount of keys to be managed is vast and resource intensive.
"Due to the streamlined management and efficiency of our CKMS, and the significant cost savings that can be achieved, most leading payment schemes, payment processors as well as large financial services institutions rely on our technology to manage their most sensitive material. We are very pleased to see NTT DATA and its customers join this great success story. CKMS is by far the most user-friendly and advanced life cycle key management solution available in the market."
Cryptomathic is a market leading e-security provider, which has over 15 years' experience in delivering secure, automated lifecycle key management solutions on a global scale. CKMS offers a flexible key push protocol allowing the secure distribution of keys to almost any secure host system from any vendor. The system also enables and simplifies internal and external compliance of financial regulations, such as PCI.
To find out more about CKMS, visit cryptomathic.com/kms or download the recently launched EMV Key Management White Paper.