VENUE
La Maison du Danemark, 142 avenue Champs Elysées, 75008 Paris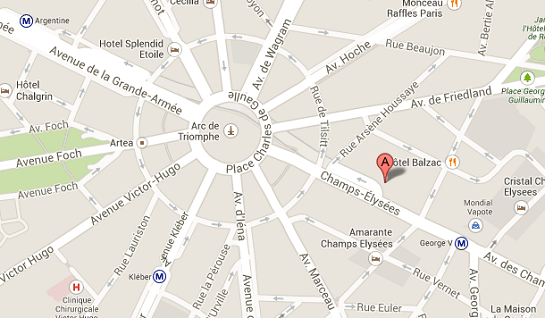 About Maison du Danemark
---
Situated in the heart of Paris on the Champs Elysées, 100m from the Arc de Triomphe, the "Maison du Danemark" (Danish House), showcases Danish life through its cultural, commercial and gastronomic activities. The Maison du Danemark was established in 1955 and plays host to a large number of activities and events which help promote Danish culture and savoir-faire. Its undertakings are wide ranging but above all aim to demonstrate Denmark's excellence in culture as well as industry.
The 7th floor of Maison du Danemark offers conferencing and professional seminar facilities to businesses or organisations of any nationality, providing impeccable levels of service in order to meet the demands of an international audience. Beyond its exceptional aesthetic qualities, this space also benefits from a leafy terrace from which there are unobstructed views across the 'ville lumière'. Not to mention the House's particularly central and accessible position in the middle of the French capital.
Since its formation the Maison du Danemark has been run by various Danish ministries, most recently by the Ministry of Foreign Affairs. In 1997 the legitimacy of the Maison du Danemark was politically contested and the closure of the House was planned, on the basis that it represented surplus spending in the state budget. The plans for closure caused a public outcry both in France as well as Denmark, and so its operating model was changed in order to assure its longevity. As a result the Maison du Danemark became a private institution. The history of the Maison du Danemark and its constant reinvention mean it is both a modern institution as well as a place of tradition. Spurred on by its central ethos, it has as ambition to continue to offer a space which lends itself to the mingling of Danish, French and foreign cultures and through this to show to the world the excellence of the country.
Hotel Bookings
---
Please contact Stefan Hansen (stefan.hansen@cryptomathic.com) if you wish to receive more information or click on the link booking.paris.com for a comparison of nearby hotels.
Travelling to Maison du Danemark
---
The Maison du Danemark is easily accessible by public transports using subway (line M1 Etoile or George V) or RER (RER A Etoile)
From the airports (CSG and ORY)
Take the RER B and change at Chatelet les Halles to the RER A towards Etoile.
From Paris centre or La Defense
Get on line M1 or RER A and stop at Etoile or George V)