VENUE & DIRECTIONS
Venue
Barclays Bank plc, 1 Churchill Place, Canary Wharf, London E14 5HP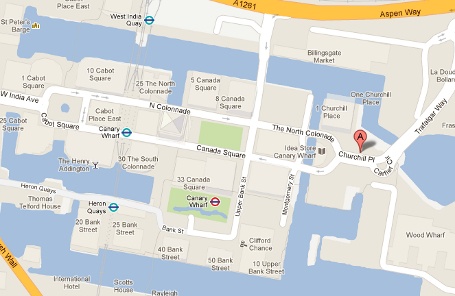 About Canary Wharf
---
Canary Wharf is a major business district located in Tower Hamlets, London. It is one of London's two main financial centres - along with the City of London.
Canary Wharf is home to the world or European headquarters of numerous major banks, professional services firms and media organisations including Barclays, Citigroup, Clifford Chance, Credit Suisse, HSBC, J.P. Morgan, KPMG, MetLife, Morgan Stanley, Skadden, State Street and Thomson Reuters.
Canary Wharf is located in the West India Docks on the Isle of Dogs in the Borough of Tower Hamlets in East London. The estate extends to over 97 acres and is so called because when in use as a dock, many of the imports were from the Canary Islands.
Hotel Bookings
---
Please contact Stefan Hansen (stefan.hansen@cryptomathic.com) if you wish to receive more information and preferential rates for nearby hotels.
Travelling to Canary Wharf
---
By London Underground
Canary Wharf's Jubilee Line station is in Zone 2

The Jubilee Line provides a swift connection to Canary Wharf, with travel times of:
• London Bridge - 7 minutes
• Waterloo - 11 minutes
• Westminster - 13 minutes
• Green Park - 15 minutes
• Bond Street - 17 minutes
• Baker Street - 20 minutes
From the Jubilee Line it is possible to interchange with all other Underground lines.
You are also able to connect to mainline railways at Canada Water (London Overground), West Hampstead (First Capital Connect), Waterloo (South West Trains), London Bridge (Southern and First Capital Connect), West Ham (c2c), Stratford (National Express East Anglia, London Overground and CTRL).
By Docklands Light Railway
Canary Wharf's Docklands Light Railway (DLR) station is in Zone 2. The DLR network runs from Bank and Tower Gateway to Stratford, Beckton and Lewisham and operates at the following times:
• Monday to Friday 05.30 to 00.30
• Saturday 05.30 to 00.30
• Sunday 07.00 to 23.00
Travelling time to Canary Wharf from Bank (Northern and Central Lines) / Monument (Northern, Central, Circle and District Lines) or Tower Gateway (District and Circle Line) is 11 minutes and from Stratford (Central Line and British Rail) is 12 minutes.
By National Rail
National Rail routes provide services into London's main rail terminus stations, including Liverpool Street, London Bridge, Waterloo, Victoria, Paddington, Euston and King's Cross St Pancras. Together they provide links from most of Great Britain and are used by many commuters and visitors travelling to Canary Wharf.
The rail network and many stations are undergoing an extensive programme of improvement that will provide more capacity and new and longer trains. The West Coast Main Line improvements provide more capacity on services into Euston and on other routes improvements are being carried out to enable more 10 and 12 car trains to be operated.
Stratford
High-speed domestic services from Kent and the Medway Towns (operated by Southeastern) now stop at Stratford International and St Pancras. Passengers can avoid central London by travelling from St Pancras to Stratford in just 7 minutes. Travel times to Canary Wharf via Stratford from many parts of Kent, including Ashford, Folkestone and the Medway Towns have been significantly reduced. The journey time from Ashford to Stratford takes only 35 minutes.
A regular service into Stratford from Stansted Airport and Hertford East has recently been introduced giving connections from the Bishops Stortford line, with a frequency of 2 trains per hour.
In addition, platform improvements at the Regional Station will enable all mainline services to stop at Stratford.
Thameslink
Thameslink services into St Pancras and London Bridge and across central London are currently being improved as part of an upgrade programme to be completed by 2016, with the first phase complete by 2012. The improvements will enable 12-car trains to be operated on the network, and have a future frequency of 24 trains per hour between St Pancras and London Bridge. This provides quicker journeys from Bedford to London Bridge which is 7 minutes from Canary Wharf via the Jubilee Line.
There are up to 30 buses an hour to catch in peak periods and some run through the night.
Your choice of bus services:
• D3 - Bethnal Green to Canary Wharf
• D7 - Mile End to Canary Wharf
• D8 - Stratford to Canary Wharf
• 135 - Moorfields to Canary Wharf
• 277 - Highbury and Islington to Canary Wharf
• N550 - Trafalgar Square to Canary Wharf (Night Bus)
By Air
Airport Connections: Canary Wharf is readily accessible from all London's airports.
London City Airport, which is less than 3 miles from Canary Wharf, provides services to 32 destinations in Europe and British Airways operated Business Class flights to JFK, New York. Check-in time is only 20 minutes. The DLR serves London City Airport, which is only 14 minutes from Canary Wharf by public transport and 10 minutes by taxi. A private jet centre is also available at London City Airport
.
Stansted Airport can be accessed by using the Stansted Express from Liverpool Street Station or services from Stratford with a travel time of approximately one hour. An express bus service also operates from Stratford.
Heathrow Airport can be reached from Canary Wharf in 55 minutes - Crossrail will reduce the travel time to 43 minutes. National Express has introduced the Dot2Dot service, providing a luxury mini-coach service to Heathrow Airport aimed at business travellers. A pick-up service operates within Canary Wharf.
Gatwick Airport can be accessed from London Bridge via First Capital Connect services and by Gatwick Express services from Victoria - the quickest route is about 45 minutes
By Road
The A13 has been progressively enhanced in recent years and now provides a three lane highway from Canary Wharf to the M25. The Limehouse Link Tunnel and The Highway provide access to the City and the West End. The Blackwall and Rotherhithe Tunnels provide a link across the river to south London.
Canary Wharf has 6,000 car parking spaces of which 3,000 are provided within public car parks. Canary Wharf also provides pedal and motor cycle parking at several locations. Canary Wharf is well served by taxis with a total of 11 taxi ranks that operate 24 hours a day.

Car Parking Rates are:
• Up to 2 hours - £3.60
• Up to 3 hours - £5.10
• Up to 4 hours - £9.20
• Up to 5 hours - £12.30
• Up to 6 hours - £14.30
• 6 to 10 hours - £20.40
• Over 10 Hours - £25.50
Pedestrian and Cycle Routes
Canary Wharf has good pedestrian and cycle links to surrounding areas. There is a footbridge
from the West Wintergarden to South Quay and Great Wharf Bridge provides a route to Poplar Station in the north.
Access to Canary Riverside provides links to Limehouse via the Thames Path. There are several cycle routes that provide access to Canary Wharf for cyclists. The London Cycle Network also follows a signed route along the river to Canary Riverside and Riverside South.
Canary Wharf provides extensive cycle parking, with over 1,000 free cycle parking spaces located across the estate. There are an additional 405 secure cycle parking spaces for public use for which a charge is applied and a further 800 private cycle parking spaces within individual building car parks.

There are now over 300 Barclays Cycle Hire docking stations on the Canary Wharf estate that can be found in the following locations:
• North Quay / West (Fisherman's Walk) - 36 docking stations
• Barclays at No1 Churchill Place - 18 docking stations
• London Underground / West Plaza - 63 docking stations
• South Quay / West - 60 docking stations
• Heron Quay / DLR Station Concourse - 27 docking stations
• Montgomery Square / East - 39 docking stations
• Upper Bank Street / Jubilee Park East - 36 docking stations
• South Quay / East - 36 docking stations
It costs as little as £1 a day to use Barclays Cycle Hire, and the scheme accepts Visa and MasterCard credit and debit cards, and Visa Electron.