Technology and governance has come a long way over the last couple of decades and we have reached a point where movement across national borders seems almost seamless. Your phone still works (maybe without additional charges), you can use your credit card and even use the same service providers (like Uber, for example). To take this a step further, the European Commission has been working on the eIDAS project and regulation which allows consumers to use their local eID to access private and even public services anywhere within the EU Single Market.
The principles guiding this process along with the technical specifications are part of the eIDAS regulation. However, the Municipalities Project is one of the first actual implementations of it.
So what exactly is the eIDAS 2018 Municipalities Project?
It is an early implementation of the eIDAS principles which allows holders of Austrian, German and Belgian eIDs to access over 300 public services in 81 Dutch municipalities. It will progressively be extended to other eID holders as well, as the technology to do so is implemented. This means that holders of any EU national eID can login to any of these Dutch public service providers using their own national eID and make use of the services available. It will greatly increase accessibility and service levels for European students and temporary workers in the Netherlands. Eventually, the plan is to roll this out across the continent.
Why is this important?
There are certain municipalities in the Netherlands where as much as 20% of the online requests for public services came from non-Dutch residents. Instead of requiring these people to register locally again, it would be possible for them to use their national IDs to login and get serviced right away. It's a bit similar to how you can use your Google ID to login into a host of services, many of which are not even provided by Google or its affiliates.
The result of such initiates is not only providing easier access to the end-user but it greatly reduces administrative burden as well. There is no need to maintain multiple databases and spend resources on collating and cross verifying information across borders and jurisdictions. Eventually, this will lead to a single platform for identification and authentication across the European Union and significantly reduce delays in availing both public and private services.
How will the private sector participate?
The Connecting Europe Facility provides funding to businesses which want to use eIDAS infrastructure and eIDs to improve their service offerings. The benefits to the private sector are apparent. Not only do businesses save costs on duplicate work, but they can also greatly reduce their turnaround time, increase the serviceable user base and most importantly - protect themselves against fraud and identity theft. The Connecting Europe Facility further provides member states and businesses with the know-how and expertise to successfully implement electronic identification facilities for their services.
The end goal is to allow users in any European country to seamlessly avail a public service or purchase a product in any other country without having to worry about registering again or providing any more paperwork.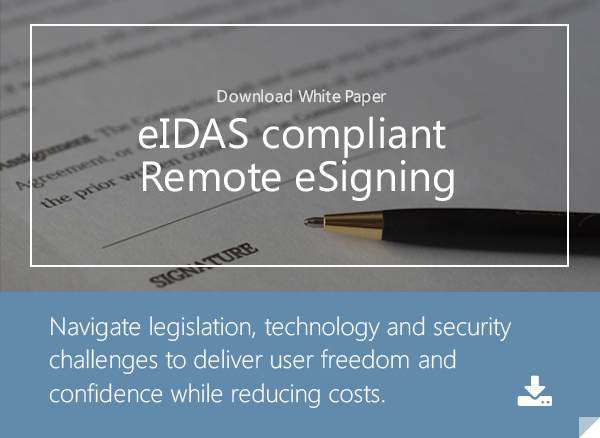 References and Further Reading
Image: Licht und Schatten, courtesy of Norbert Reimer, Flickr (CC BY-SA 2.0)